Slade news September 2012
"WHO'D HAVE THOUGHT IT...
DAVE HILL GOES WILD FOR WORDZWORTH"
Dave Hill interview in Express 30.09.2012
By Dave Hill Have your say(0)
EVEN now, some people still think of me as that flamboyant personality from the Seventies jumping around on Top Of The Pops. Dressed in glitzy clothes and high-stacked boots, I drove a gold and cream Silver Shadow Rolls-Royce with my own number plate, Yob 1.
It therefore comes as a surprise when they discover I'm passionate about poetry. I'm a Wordsworth fanatic and although I read other poets, including Shelley and Keats, I always return to William Wordsworth.
Lines Written A Few Miles Above Tintern Abbey is a particular favourite. When I first read it, it struck a chord immediately. Slade were going through a rather barren period but that poem and others helped me through that frustrating time.
It was amazing that something a man had written 200 years ago had such a profound effect on me. I travelled to Dove Cottage, Wordsworth's Lake District home, to find out more about the man. It was a day I will never forget.
It was a beautiful, calm day and I spent my time just reflecting on his life and work. Driving home, I switched on the radio and heard all hell had broken loose; it was 9/11, and to think I'd just enjoyed a perfect day without a clue about the tragic events unfolding across the Atlantic. So much of what Wordsworth wrote resonates with me in terms of my feelings about so many areas, including nature and life itself.
Slade's 66-year-old guitarist has been entertaining millions for more than four decades
I find poetry motivating and it can help you start your day with a positive frame of mind. I recommend everyone keeps a book on their bedside cabinet. I often read something before going to sleep and if I'm on a trip a poetry book is one of the first things in my suitcase.
Poetry has helped me through difficult and challenging times. There are areas I don't want to delve into, but I have experienced depression and found music and poetry very therapeutic. Having poems to read and reflect on helps you step back into the sunshine again.
Two years ago, I suffered a stroke while performing on stage in Germany. It made me reassess my life and realise that some things I worried about weren't that important.
That experience taught me to appreciate the moment I'm living now but, again, reading poetry during my recuperation was a real help.
My interest came late in life. As a kid, I wouldn't have known who Wordsworth was, let alone appreciated his work. I bypassed poetry at school because I was too busy larking about. As a result, I was in the bottom class and school reports always contained that trite phrase: "Could do better." My mum had to give up on her hopes of me becoming a doctor!
In fact, I didn't even read newspapers until I was 40 because I couldn't give a hoot about what was happening in the world. I remember Noddy Holder remarking once that I never picked up a paper, all I was interested in was Sounds, NME and other music publications.
Then, when I was in my mid-40s, someone bought me a book for my birthday. The Country Diary Of An Edwardian Lady was written by Edith Holden and published posthumously to much acclaim in 1977. It had been written around 70 years earlier and was a collection of notes recording her observations of nature and the world around her.
Edith Holden had a love of poetry and her words introduced me to the wonderful language of poetry. Reading that book seemed to open a door for me.
Something happened to me because of her book; I couldn't get enough and started exploring more and more poetry. Whenever I was out and about, I'd look in secondhand shops and seek out poetry books. It's something I still do. I love exploring old bookshops. One day I'll have to count how many books I have collected.
It's a shame it took me until my 40s to discover poetry but I'm deeply enthused now and would recommend it to anyone. I don't write poetry but, who knows, it might be something for the future. Poetry has become an important part of my life.
* Well, he is from Slade...
• Slade are touring with Sweet from November 7. For tickets please visit flyingmusic.com or call 020 7221 7799.
http://www.express.co.uk/posts/view/349035
BBC 22.9.2012 70s: Slade and Showaddywaddy
"Keith's back from his holidays and going back to the 70s, when Rod Deas & Romeo Challenger (from Showaddywaddy) and Don Powell & Dave Hill (of Slade) join him for a '70s Extravaganza'." Available to listen till 29.9.2012:
"Slade's Dave Hill: 'Most of our earnings went on tax"
The Telegraph 24.9.2012:
"Slade's flamboyant guitarist Dave Hill, 66, lives in Wolverhampton with his wife, Jan. He has three grown-up children, Jade, Bibi and Sam.
HOW DID YOUR CHILDHOOD EXPERIENCE INFLUENCE YOUR ATTITUDE TO MONEY?
I grew up on a council estate in Wolverhampton, one of the ration book generation. When you're a child, you don't think about money too much – that's what mum and dad take care of. Dad was a car mechanic and Mum had an office job when my sister and I started school; her wage helped pay for our holidays. Money was tight but I don't remember it hindering us as a family.
My parents had to be careful with their money and this rubbed off on me. I'm a cautious person. When, as a band, we started earning money and could afford to take our girlfriends out, I never blew my cash. Even during our days of fame I was careful because it was natural not to waste money; that attitude was inherited from my parents and remains with me.
...
HOW DID YOU GET STARTED?
I wasn't particularly academic at school so I was never going to be a doctor. My grandfather was a classically trained pianist so my love of music probably came from him. I didn't just pick up the guitar because I wanted to be in a rock band, I wanted to play because I had a feeling towards music and the guitar was the instrument which suited me.
In the early Sixties, I was in a group called The N'Betweens with Don Powell and around 1966 we joined up with Noddy Holder and Jim Lea to form a new band. We started off as Ambrose Slade but eventually just Slade. Our big break came when we were spotted by Chas Chandler, Jimi Hendrix's manager, and went on to have more than 20 top-20 singles and six hit albums.
WAS IT DIFFICULT ADJUSTING TO FAME?
The first year of our success felt unreal; I was almost uncomfortable about what was happening. I'd never experienced anything like it and kept asking myself whether I deserved such fame.
The Seventies were a great period. We made lots of money and moved around the millionaire status. Although we spent money on ourselves, most of our earnings seemed to go on tax. Around 1973, we were paying extraordinary amounts – up to 90pc. Pop stars were leaving the country because of the tax structure but we didn't do that. Being very British, we'd have missed HP Sauce and bacon sandwiches, so we stayed.
But you have to understand fame, which comes and goes, and be able to adjust to those times when you're not selling records.
...
WHAT'S YOUR MOST TREASURED POSSESSION?
My original Gibson guitar, which I played on all of Slade's hit records. My father bought it in 1968 for £220, which was an awful lot of money for a car mechanic. My manager, Chas Chandler, advised me to get a better guitar so father took me to London. I saw the Gibson in a window in Shaftesbury Avenue. Dad didn't use cheques or believe in H P so he got the cash and the guitar was mine. It was a joy to own. I don't take it on the road any more because it's so valuable, not in terms of money, more memories.
...
WHICH SLADE HIT EARNED YOU THE MOST – WAS IT THE FESTIVE FAVOURITE, MERRY CHRISTMAS EVERYBODY?
That was definitely one of the biggest, especially when it came to air time – and it's still being played. But I don't rely on the royalties: I still work for a living and Slade are touring the UK this autumn and winter with Sweet. Believe it or not, Merry Christmas Everybody was recorded in New York during the summer of 1973 when it was 100 degrees outside!
DO YOU BANK ONLINE?
No. Call me old-fashioned if you want, but I still like visiting the bank and seeing a person behind the counter rather than relying on my computer to transfer money or pay bills.
Slade are touring with Sweet between November 7 and December 15. For further information visit flyingmusic.com or call 020 7221 7799 "
http://www.telegraph.co.uk/finance/personalfinance/fameandfortune/9563138/Slades-Dave-Hill-Most-of-our-earnings-went-on-tax.html
Don on a Danish TV ad
Don Powell has been playing drums on a Danish TV ad for Durex in the mid-September.
Noddy Holder at T Rex memory event
A great Noddy video from T Rex memory event at the Shepherd's Bush Empire on Saturday 15th September 2012:
And good photos on Dave Kemp's Slade site:
http://www.davekempandslade.com/
Thanks a lot for the links and photos, Dave !
Největší hudební událost roku přivítá rockovou legendu Slade
7.9.2012 Regionalni Televize, Czech:
Krnov /SOUTĚŽ O LÍSTKY/ - Krnovský Kofola music club zve všechny fanoušky poctivého anglického rokenrolu na turné světoznámé rockové legendy Slade. Skupina Slade se představí v Krnově živě v sobotu 27. října a již jsou známy i předkapely.
Po světových kapelách jako jsou Nazareth a Smokie, které jsme mohli v krnovském Kofola music clubu vidět v posledních letech, přichází další pecka. Tentokrát se Krnované, a nejen oni, mohou těšit na rockovou legendu Slade.
Slade jsou v České republice dlouhodobě ve velké oblibě, jsou u nás hudebním fenoménem, který zná snad každý, kdo má rád a vnímá hudbu. Písně kapely Slade se pravidelně hrají téměř na všech českých rozhlasových stanicích. Mezi největší hity patří například Far Far Away, My oh my, Run Runaway a další.
Koncert v Kofola music clubu je jednou z posledních příležitostí vidět Slade v Česku naživo, ne-li příležitost úplně poslední. Fanoušci mají šanci pobavit se na jejich koncertu a nechat se unést nakažlivou atmosférou hitů Slade. Zařídit tento koncert stálo pořadatele spoustu financí i sil, nakonec se ale podařilo a již brzy Krnovem otřese pořádný rokenrol.
"Je to jediný klubový koncert Slade v České republice, tak doufám, že si jej fanoušci nenechají ujít. Koncert samozřejmě umocní světelná show a zvuk o síle dvakrát 10 kW. Celý koncert bude dokumentovat výborný fotograf Marek Bogáč," řekl pořadatel koncertu Martin Hradečný. Známy jsou také již i předkapely, jedná se o kapelu K2, u které se často objevuje přívlastek "nejlepší dívčí rocková kapela v ČR" a kapela The Pant, která pochází z Břidličné.
Dívčí kapela K2 funguje již šest let a má tři členky od 19 do 20 let, jde tedy o velice mladistvou kapelu. Její repertoár tvoří vlastní písně jak v češtině, tak v angličtině, ale posluchači se mohou v jejím podání těšit i na převzaté rockové songy legendárních kapel, jako jsou například AC/DC či Lenny Kravitz. Kapela The Pant vznikla v roce 1996 v Břidličné a postupem času se jejich styl vykrystalizoval v pravověrný hard rock. Kapela má za sebou na tři sta živých vystoupení.
Říjnová hudební událost tak slibuje opravdu výjimečný program. Často se objevuje označení největší událost podzimu a jistě to není pouhá nadsázka. Zájemci si mohou zakoupit lístky v předprodeji, například v krnovském informačním centru. Cena se pohybuje kolem 850 korun.
Díky dvěma předkapelám se posunul čas koncertu na 19.30 hodin.
SOUTĚŽ O VSTUPENKY
Vyhrajte vstupenky na krnovský koncert kapely Slade. Máme zde soutěž o dva volňásky na tuto báječnou událost. Je to jednoduché, stačí správně odpovědět na dvě soutěžní otázky, zaslat je e-mailem a pak už jenom čekat, zda budete ti šťastní vylosovaní. Soutěžní otázky zní:
1. Kdy vznikla kapela Slade?
2. Kostelecký hudební klub vznikl před 20 lety. Víte ale, odkdy se datuje vznik Kofola music clubu?
Správné odpovědi posílejte na e-mail: m.hradecny@gmail.com. Soutěž trvá do 18. října, vítězové budou informováni e-mailem."
Bezno, Velké Meziříčí, Krnov, to jsou štace turné proletářských "Slejdů"
Slade's mini Czech tour 24.-27.10.2012
iDNES Kultura 15.9.2012:
"Miniturné po Česku si střihne britská rocková legenda Slade. Zahraje ve středu 24. října v Beznu, o den později ve Velkém Meziříčí a šňůru uzavře v sobotu 27. října v Krnově.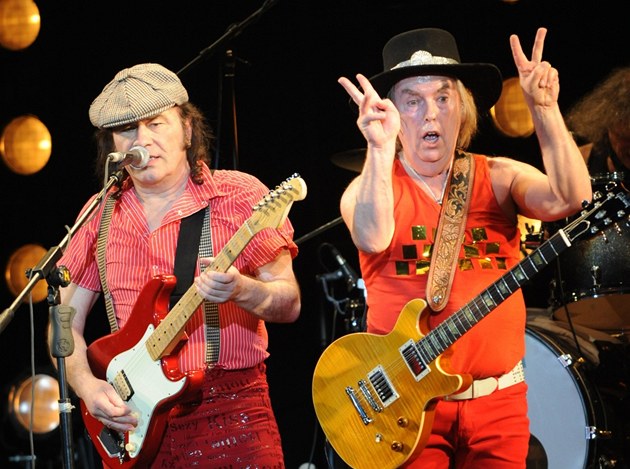 Slade jsou v ČR dlouhodobě ve velké oblibě. Jejich hity ze 70. let (Far Far Away, My Oh My, Run Runaway, Cum On Feel The Noize, Wild Winds Are Blowing nebo Coz I Love You) dodnes hrají české rozhlasové stanice a obejde se bez nich jen málokterá taneční zábava.
Skupina Slade vznikla na jaře 1966, průlomu se dočkala na začátku 70. let, kdy si vybudovala image "drsných hochů z pracující vrstvy", jejíž součástí byla i úmyslně nesprávná angličtina v titulech písní.
Ve své zlaté éře v letech 1971-1974 dosáhl "proletářský" soubor šestkrát na první místo britské hitparády. V roce 1974 kapela dokončila svůj film Flame, z něhož vzešel singlový hit Far Far Away.
"Vystajlovaní" Slade byli ve své době jedněmi z nejpopulárnějších představitelů glam rocku. K jejich úspěchu výrazně přispěl manažerský talent Chase Chandlera, exčlena Animals a spolustrůjce úspěchu Jimiho Hendrixe."
http://kultura.idnes.cz/turne-kapely-slade-0nu-/hudba.aspx?c=A120815_103049_hudba_ob
Slade ve Velkém Meziříčí
Slade to Velke Mezirici, Czech 26.10.2012
Noviny VM 2. 9. 2012:
Zveme všechny fanoušky poctivého anglického rock´n´rollu na turné světoznámé rockové legendy Slade v ČR v Říjnu 2012. Slade se představí živě na koncertech ve Středu 24.10.2012 v Beznu, v Pátek 26.10.2012 ve Velkém Meziříčí a v Sobotu 27.10.2012 ve Zlíně.
LEGENDA SVĚTOVÉ ROCKOVÉ SCÉNY NA TURNÉ V ČR
PÁ 26.10.2012 VELKÉ MEZIŘÍČÍ / JUPITER CLUB
Slade jsou v ČR dlouhodobě ve velké oblibě, jelikož mají v ČR silnou posluchačskou základnu, Slade jsou u nás hudebním fenoménem, který zná snad každý, kdo má uši a vnímá hudbu. Hity Slade se pravidelně hrají snad na všech českých rozhlasových stanicích. Největší hity Slade jsou např. "Far Far Away", "My oh my", "Run Runaway", "Cum On Feel The Noize", "Merry Xmas Everybody", "Wild Winds are Blowing", "Get Down and Get With It", "Coz I Love You", "Take Me Bak 'Ome" a další…..
Skupina Slade vznikla na jaře 1966 ve Wolverhamptonu pod názvem The N'Betweens. Po nahrávce "You Better Run" ze srpna téhož roku, se čtveřice v roce 1969 přestěhovala do Londýna a přijala nový název Ambrose Slade. Na počátku sedmdesátých let si čtyřka zkrátila název na Slade a natočila singl "Wild Winds are Blowing" jenž následovalo debutové album "Play it Loud". Po té si kapela nechala si narůst delší vlasy a vybírala si pestré, později blyštivé oblečení. Součástí "drsných hochů z pracující vrstvy" byla i úmyslně nesprávná angličtina promítající se do titulů písní. Hudba kapely se vyznačovala hlasitou kytarou a podupávajícím rytmem podle kterého někteří kritici označovali Slade za fotbalovou skupinu. Roku 1971 již kvartet začal pronikat do ostrovního singlového žebříčku. Po překopávce hitu od Little Richarda "Get Down and Get With It" kapela v listopadu vydala sarkastický song "Coz I Love You", který vyskočil až na první pozici britské hitparády. Dvojice Holder / Lea se od té doby osvědčila jako výborný textařsko - skladatelský tandem. Ostatně, ve své zlaté éře 1971-1974 dosáhl proletářský soubor šestkrát na první místo britské hitparády. Kromě zmíněné "Coz I Love You" se na prvních britských příčkách ocitly hity "Take Me Bak 'Ome" (1972), "Mama Weer All Crazee Now" (1972), "Cum On Feel the Noise" (1973), "Squeeze Me Pleeze Me" (1973) a "Merry Chrismas Everybody" (1973). V květnu 1972 se kapela Slade poprvé vydala na rozsáhlejší turné jako support Status Quo. V prosinci 1973 Slade vydali vánoční singl "Merry Chrismas Everybody", který nahráli o rok dříve v New Yorku během turné. Tato píseň od té doby patřila k nejúspěšnějším singlům kapely a opakovaně se v čase vánočním vracela do hitparád. V roce 1974 kapela dokončila svůj film "Flame" z něhož vzešel singlový hit "Far Far Away". Slade se za velkou louží dočkali dalšího úspěchu díky americké heavymetalové formaci Quiet Riot, která roku 1983 slavila velký úspěch s napodobeninou o deset let mladšího hitu od Slade "Cum On Feel the Noise". Roku 1983 Slade vydali album "The Amazing Kamikaze Syndrome", které bylo s mírně pozměněným obsahem vydáno i v USA pod názvem "Keep Your Hands Off My Power Supply". Z této desky vznikl americký nejúspěšnější singl "Run Run Away". V roce 1995 SLADE vydali studiové album "Keep on Rockin'!".
Jedná se o jednu z posledních příležitostí vidět Slade v ČR naživo, proto se přijďte pobavit se svou rodinou a přáteli na jejich koncert a nechte se unést nakažlivou atmosférou hitů Slade.
http://www.novinyvm.cz/4126-slade-ve-velkem-mezirici.html
Slade night on BBC4 before Christmas
Gary Jordan on The Official Slade page 16.9.2012:
"BBC4 Slade night will be transmitted just before Cristmas, consisting of the BBC It's Slade documentary, Slade in Flame and a special Slade@theBBC programme, which, features full archive performances not seen in full on UK tv since original broadcasts, including a wiped Coz I Luv You performance from Top of the Pops, which will leave you all open mouthed, interspersed with unseen interviews. This has been put together by myself so you'll know it's good, enjoy the night and keep on rockin."
Thank you very much for the info, and for the documentary already in advance, Gary ! Pre-Christmas coming to us !
Forssan Lehti 8.8.2012: Slade at Keitele-jazz, Äänekoski, Finland 25.7.2012
Just found today an excellant concert review from Keitele-jazz in Finnish newspaper Forssan Lehti (from my, Ilpo, ex-home region) 8.8.2012 by Matti Rinne ! It would really be worth knowing finnish now !
"Slade on varsinainen keikkajuhta, joka on toiminut jo 1960-luvun lopulta lähtien. Mukana on edelleen kaksi neljästä perustajajäsenestä: kitaristi-laulaja Dave Hill sekä rumpali Don Powell.
Viihdyttävää itseironiaa
Ennen kaikki oli paremmin, tai ainakin päivän purkkapoppi! Lukuisia listahittejä 70- ja 80-luvulla mestaroinut brittiläinen Slade oli - tulkinnasta riippuen - yksi monista nk. Glam-Rockin edustajista, joiden enemmän ja vähemmän aikaa kestäviä ralleja radio soitti runsaasti 1970-luvun alussa, ja nyttemmin taas uudestaankin, kun Radio Suomen "Entisten nuorten sävellahja" -ohjelma käynnistyi muutama vuosi sitten. The Sweet, Mud, Gary Glitter, Suzi Quatro tai vaikkapa Alvin Stardust ovat monelle tuolloin lapsuuttaan tai nuoruuttaan eläneelle tuttuja nimiä.
Äänekoskella kohta 30 vuotta järjestetty pienisuuri kesäfestivaali Keitelejazz, on löytänyt oman pikantin paikkansa suomalaisessa musiikkitarjonnassa. Konsepti on onnistunut yhdistelmä nostalgiaa ja jazzin kovimpia nimiä, ja tämä kaikki lisäksi hyvin maltillisilla lippuhinnoilla maustettuna!
Kello 21 juhlateltan suojissa käynnistynyt show oli täynnä hikistä tunnelmaa, kiitos etenkin suomalaisen kesäsään mallia 2012, mutta ennen kaikkea hyväntuulisen, töitä paiskovan ja estottoman itseironisen purkkabändin! Kun keikka alkoi kappaleiden We´ll Bring The House Down sekä Take Me Home -potpurilla, se olikin sitten yhtä jytälistaa ykköshittien ja toistensa kanssa kilpaa hymyilevien konkareiden saattelemana.
Illan isäntä ja seremoniamestari oli Dave Hill, joka otti tilanteen ja yleisön haltuunsa heti. Kansa taputti tunnin ja vartin rupeaman alusta loppuun mukana, ja mikä ettei, kun äänenpaine ja soitto oli oivasti kuosissa. Jo kolmantena kuultu Far Far Away laulettiin mukana ja mojova yllätys perään oli nykyisen basisti-viulisti-laulaja John Berryn upea tulkinta Jimmy Lean aikanaan esittämästä balladista Everyday.
Herkistely jätettiin sikseen: Look What You Dun ja bändin aivan ensimmäinen listaykkönen Coz I Luv You viuluosuuksineen riisui vastaanottavan yleisön aseista. Harvoin vuorovaikutus on yhtä spontaania ja luonnollista kuin nyt oli. Brittien ja härmäläisten tajunta tuntuu vain yksinkertaisesti olevan kielimuurista riippumatta hyvin samalla aaltopituudella.
Long Long Way oli hitti 80-luvulla ja yksi kaikkein kovimmista vedoista, Gudbuy T´ Jane sai jo kriitikonkin nieleskelemään tyhjää. Bangin´ Man ja toinen ralli Slayed-levyltä (1972), Mama Weer All Crazee Now!
Juhlateltta pullisteli iloista yhdessäoloa, ja rumpali Don Powell nosti kirjaimellisesti kapuloillaan teltan kattoa ylöspäin. Harmaakettu piti kompin yksinkertaisen jykevänä alusta loppuun asti, ja Hill nautti sooloistaan joka solullaan. Vokalisti-kitaristi Mal McNulty täytti edeltäjänsä Noddy Holderin vaativan tontin ammattimaisen maltillisesti, ja illan kokonaisuus oli huomattavasti parempi kuin mitä olin uskaltanut toivoa.
Kun encoret, jylhänkaunis pullistelu My Oh My sekä Come On Feel The Noize oli saatu soitettua, oli myönnettävä: Toimii kuin se junan vessa!
http://www.forssanlehti.fi/kulttuuri/musiikki/?newstitle=Viihdytt%E4v%E4%E4+itseironiaa
Jim Lea working for his String Theory album in 2008
"JIM LEA RELEASE" OUT 21.9.2012
Redline, a heavy/hard rock group from Birmingham, will release "Vice" album on Friday 21st September 2012. It will feature JIM LEA performing violin and cello on 'Cold Silence'!
Engineered and mixed by Sheena Sear. Recorded at M2 Studios • Coven • England. Produced by Redline MMXll.
http://www.redlinerock.com/redline_vice.html
http://www.escape-music.com/coming.htm :
"Redline are a Hard Rock Band from the Birmingham in the United Kingdom.
Formed in 2006 through a desire to write 'nu-classic rock' songs... The band's new album 'Vice' is due to be released in Europe on the Escape Music label.
...
The album was recorded at Mad Hat Studios who have recorded bands such as Magnum, Diamond Head and Marshall Law. Additional work on a number of tracks also took place at The Old Smithy Studios...
During recording their power ballad 'Cold Silence' for the Vice album, Jimmy Lea from Slade dropped in to the studio and being impressed with the song went on to put down violin and cello parts on the track, whilst Pete Lakin (ex Double Cross/Fatemaker) contributed the haunting piano arrangement. "
Glam rock legends on way to Whitehaven Festival in June 2013
TWO of the biggest glam rock bands – Slade and The Sweet – are coming to party at next year's Whitehaven Festival.
It promises to be a colourful night recreating the era when flamboyant outfits were coupled with outrageous make-up and equally vivid hairstyles...
You can expect Slade's biggest numbers such as Cum On Feel The Noize, My Oh My, Mama Weer All Crazee Now and maybe even Merry Christmas Everybody.
Gerard Richardson, festival organiser, said he was delighted with the line-up.
"We wanted to put Slade on last year but they were headlining a festival in Germany and disappointed they couldn't make it. They are looking forward to coming this year and suggested we get The Sweet along.
"As two of the most iconic bands in the last 40 years it's going to be a real feelgood party night which is exactly what has consistently worked at the festivals.
"Both bands have a huge number of hits and along with From the Jam, who have a massive following, it's going to be a great night of music."
The original line-up of Slade with frontman Noddy Holder split in 1992 but original band members Dave Hill and drummer Don Powell are still in the band, joined by John Berry on bass guitar, vocals, violin and Mal McNulty on vocals and guitar.
...
Tickets are currently available online only at: www.thewhitehavenfestival.co.uk
"It will be the only time that it will ok to scream Merry Christmas everyone in the middle of June. Out with my glam rock kit and roll on June. Well done to all involved."
http://www.whitehavennews.co.uk/news/glam-rock-legends-on-way-1.992634?referrerPath=home

Robin 2 M2 Studios: Live Band Of The Year Competition 2012 - Grand Final
Friday 14 December 2012
Advance Ticket Price: £5.00Door Price: £6.00
The winner of this years competition will be selected tonight by a music biz celebrity panel including Jim Lea from Slade. Don't miss !!!

Featuring artists TBC
Advance Ticket Price: £5.00Door Price: £6.00
Website
Dave Hill on BBC Radio Stoke 31.8.2012
Alfie Boe and Dave Hill
Paula chatted to singing sensation Alfie Boe who's written his autobiography, and glam rock legend Dave Hill of Slade about their upcoming tour with Sweet. Paula spoke to Andy Scott from Sweet earlier this week.
There was also details of what's on at this year's Whitmore Festival.
http://www.bbc.co.uk/programmes/p00x1jzp